Friday, 11 September 2015
Friday, 21 August 2015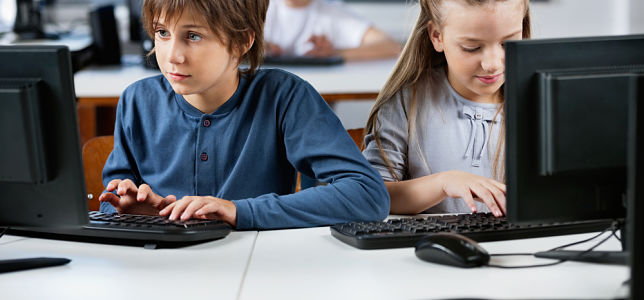 Some states have begun to report the results of their
Common Core
-aligned state standardized tests from the 2014–2015 school year, and so far, most are showing increases in student achievement.
States that have reported results so far include Arizona, Idaho, Missouri, New York, Oregon, Washington and West Virginia. Of those, Idaho, Oregon, Washington and West Virginia were part of the
Smarter Balanced Assessment Consortium
, while Arizona, Missouri and New York used their own state-administered assessments (AzMERIT, MAP and EngageNY). Results from
Partnership for Assessment of Readiness for College and Careers
(PARCC) are not yet available.
For the first time, Arizona students in third through eleventh grade took the AzMERIT test, and the state released preliminary results this month. As many educators expected because of the test's increased rigor, the results show that most students aren't proficient in math or reading. The state will release final results in October.
Idaho students in grades three through eight and grade 10 took the Idaho Standards Achievement Test (ISAT) by Smarter Balanced. While the state will release its final results in October, preliminary results released in July show that students outperformed the projections set by Smarter Balanced. In English, fourth-grade students had the lowest average scores, with 46 percent of students scoring as proficient or above; and 10th-grade students had the highest average scores, with 61 percent of students scoring as proficient or above. In math, 10th-grade students had the lowest average scores, with only 30 percent of students scoring as proficient or above. Third graders had the highest average scores, with 50 percent of students scoring as proficient or above.
Missouri students in grades three through eight took the Missouri Assessment Program (MAP) tests after taking the Smarter Balanced field tests the year before. On average, students performed better on this year's MAP tests, which included SBAC items, than they did on the Smarter Balanced field tests last year. According to preliminary results, about 59.7 percent of students passed the English language arts MAP test, but just over 45 percent passed the math test.
New York students in grades three through eight took the EngageNY tests in English language arts and math for the third year in a row, and preliminary results show that they made slight gains this year.
In Oregon, third- through eighth-graders and eleventh-graders took the Smarter Balanced tests this year, and preliminary results show they performed "better than anticipated," according to a statement from the Oregon Department of Education. Students are scored on a four-point scale, and those with a score of 3 or 4 are considered on track to graduate from high school prepared for college and career. In English language arts, third-graders had the lowest average scores, with 47 percent of students scoring 3 or 4; and 11th-graders had the highest average scores, with 69 percent of students scoring 3 or 4. In math, 11th-graders had the lowest average scores, with 31 percent of students scoring 3 or 4; and third-graders had the highest average scores, with 47 percent of students scoring 3 or 4. The state expects these scores to drop as final results come in.
Students in Washington generally scored better on this year's Smarter Balanced assessments than they did on last year's field tests. In English language arts, third-graders had the lowest average scores, with 53 percent meeting standards; and 10th- and 11th-graders had the highest average scores, with 62 percent meeting standards. In math, 11th-graders had the lowest average scores, with only 29 percent meeting standards; and third-graders had the highest average scores, with 57 percent meeting standards.
Students in West Virginia exceeded national projections in English language arts, but not in math, except in third grade, where students exceeded projections in both tests. Students in grades three through eleven took the Smarter Balanced tests this year. In English language arts, ninth-graders had the lowest average scores, with 38 percent scoring as proficient; and fifth-graders had the highest average scores, with 51 percent scoring as proficient. In math, 10th-graders had the lowest average scores, with only 15 percent scoring as proficient; and third-graders had the highest average scores, with 44 percent scoring as proficient.
Chad Colby, director of Strategic Communications and Outreach for the education reform organization,
Achieve
, said he expects to see similar results when the final scores are released later this year.
Karen Nussle, executive director of the
Collaborative for Student Success
, is similarly optimistic. "As we've seen in states like Washington, Oregon, Missouri, West Virginia and now New York, when states raise the bar, students are prepared to meet the academic challenge — and have shown that they are on track to becoming better prepared academically for life after high school," she told
Politico.com
.
Monday, 29 April 2013
In our previous article of
"Intelligent Adaptive Learning: An Essential Element of 21st Century Teaching Part I"
we saw "What is Intelligent Adaptive Learning all about and why is it required" Let us explore the subject further more
Increase inDemand of Intelligent Adaptive Learning
With more and more learners, students and faculties moving to online education, box instructor or
adaptive learning
has come up as the most sophisticated solutions.
Intelligent Adaptive Learning
contributes in bigger way (much more meaningful way) in developing engagingenvironment and through grasping relations between the learner and the online tutor. It is a commonly established fact that understanding the needs and developing the solutions based on those very needs is beneficial for all.
A few challenges of Intelligent Adaptive Learning
In online education, all the students might not be on the same platform of intelligence and understanding as each student comes from totally distinct geographical, cultural, economical and intellectual background. For such students regular methodic approach of imparting education does not serve as a plausible option. Thus, inferential technology has been used to form the Intelligent Adaptive Learning. With the help inferential technology adaptive learning is expected to grow leaps and bounds. Now, that this system has come out as an open-market paradigm, it is going through an optimistic phase of impact on various aspects such as affordability, accessibility, quality challenges of global education as well as training pertaining to e-learning systems.
Importance of intelligent adaptive learning
One of the greatest advantages that intelligent adaptive learning provides is that it gives the learner the privilege of selecting his own modular components which are especially suitable for their learner-centric environment. Moreover, it also provides flexible solutions through which they can adapt themselves dynamically and which also suit their real-time goals. At present, three models have been created for teaching learners of different levels:
Expert model
Student model and,
Instruction model
Intelligent adaptive learning finds its usage in classrooms as well as in distance learning education fields. It is also used in group collaboration applications.
Each individual is uniquewe have hundreds of reasons to believe it. Since many centuries humanity has been trying to bridge the gap between high level and low level, be it education, financial status or other socio economic factors. As far as learning is concerned with rise of intelligent adaptive learning techniques, by the mid of 21st of century we can expect all the people getting access to the unique, specially customized and affordable learning systems. These
Intelligent Adaptive Learning
systems
will be flexible and can be tuned in to match the understanding and interest level of an individual. Through Intelligent Adaptive Learningsystem, everyone will have the same level of knowledge, information and understanding of the subject at the end of the curriculum. This will also create better learned and thoughtful individuals, who will be able to use it for pursuing their further goals more effectively.
Geographical barriers have already started dropping with the coming up of the internet, at least in the virtual world. But the high speed of adaptive learning looks assuring enough to bring the same shift in the outlook of real world as well. In short though as of now Intelligent Adaptive Learning systems are yet in their cradle phase yet soon enough Intelligent Adaptive Learning systems will create better learned generations that shall be enhanced forever.
Tuesday, 23 April 2013
Lately there has been a lot of discussion going on intelligent adaptive learning techniques. The latest "Y" generation technology that is concentrated towards developing the teaching and learning techniques in schools has become famous as adaptive learning. The i
ntelligent adaptive learning method evolves personalized instructions according to the need of each student, his level of understanding as well as interests.
Adaptive learning helps improve adaptation and grasping skills of each student on individual basis and the subject of learning is well absorbed by the students. With the technological changes evolving and improving rapidly for a student as a learner it is important to stay updated.It is the duty of the schools imparting higher level of education to upgrade their education system as intelligent adaptive learning system has already become an essential element of the 21st century teaching. In fact, both tutors as well as students get benefit from adaptive learning.
Why is intelligent adaptive learning required?
Through intelligent adaptive learning technology unique and tailor made services and content are provided to schools or learning groups so that learning process with improvisation and efficiency is adapted by every individual or student. One of the important highlights of adaptive learning process is that it uses the progress of the learner and his academic success to form future strategies for learning.
The whole process involves adaptive interaction, tracking the feedback and then, delivering the content and the information. Personalized intelligence is the right term that effectively describes the intention of adaptive learning. From studying learning orientation to academic background this technique involves an attempt to track down the multiple sources that blend to form a personal intelligence of an individual learner.
How does adaptive learning work?
The need for such a new technique has been felt as more and more people are enrolling for online education.Hence, the students are in need of more personalized solutions that can match their needsof grasping and learning in a better manner.
Adaptive learning requires computers as the major interactive device for teaching. The computer presentations are adapted and undergo a makeover depending upon the learning needs of the student. These changes are carried out based on the response of the students to the tasks and questions are asked by the computer. The main aim of intelligent adaptive learning is to provide the learner the interactive presence that a physically present human teacher provides.
Recent researches have suggested that it is possible to impart information through traditional learning methods but to impart knowledge by useof non adaptive and traditional approachesid meaningless. Usually in traditional methods the student's participation is almost nil. He is just a passive receptor. Adaptive learning transforms the learner into a collaborator rather than the passive receptor and thus adaptive learning makes the learner understand the topic in a better and engaging manner.
Today, adaptive learning is not only been used for learning, but commercially it is adapted in business training. From web applications to desktop computer applications adaptive learning has spanned every area of online learning process. Read more about Demand of Adaptive Learning and Importance of Adaptive learning in "Intelligent Adaptive Learning: An Essential Element of 21st Century Teaching Part II"
Thursday, 29 November 2012
Even in non-election years, education remains at the forefront of most Americans' social, political, and economic concerns. Or it should, anyway. Seeing as how the public school system is run by the, uh, government, it ought to come as no shock to anyone whatsoever that some legislation stands as more groundbreaking than others.
Do keep in mind that this article only includes federal laws, though legislation passed at the state level can obviously still hold influence. Like compulsory education. That's kind of a big deal. But we're sticking with the rulings that govern all the states, because so many variations exist from one to the other it'd be hard to discuss them without keeping you here all day.
Monday, 20 August 2012
Teaching has become a kind of competition for children wherein everyone is trying to outrun the other. But they do not understand that this learning will not help them in practical world. What we need is a sound educational mechanism with innovative techniques instead of grading systems to make students independent and self-reliant.
Through this write-up; I don't want to create any controversy or any heated discussion about the present education system. But normally all my blogs have concentrated on providing something different so that tutors as well as children can have interesting ways of thinking. This blog is going to reflect different ways through which grading systems have affected the children as a whole. Now traditional tutors will argue at this point and say that without grading systems it is impossible to evaluate the progress of a child. Now maybe they have a valid point. In fact today in the morning, I replied to a facebook post about an image that I had kept on Facebook. Now it was a very simple quote but yielded lot of attention from various sections of public at large. Let me share the experience with you and believe me this is all connected to the subject that I am discussing right now.
The quote read as: "The flaw in the education system, as far as I see it, is that you live your life - the teacher and student – in quest of A's. Yet later in life, the A is irrelevant." Now this quote is from Dr. Neil deGrasse Tyson, Astrophysicist. So this is not my quote but since I posted it on Facebook there were lot of reactions on it. I will not take the names of the users because of the privacy issue but it was quite interesting and debatable topic. There were certain people who were of the opinion that technology has developed so much that internet has become a new medium for education and there is no way to substitute that with the grading system. Now this is the view of one of the users. While others were of the opinion that if we drop this yardstick of evaluating children and substitute them with social media tools it would become very difficult to make students study through conventional methods like books. While others quoted that if you only make children learn and re-learn to gain knowledge there would be no yardstick to judge their skills.
I defer from this opinion. I have already enumerated in that particular discussion that if a child does not find a thing interesting he/she would not be involved in the studies thoroughly. The current teaching mechanism has its own flaws which need to be overcome only through making education fun-loving for children. If you give provide guidance and introduce creative ways of teaching students in a way that they love it they would no longer need an
evaluation method
or a grading system. It will all be just a mandatory provision just for the sake of it. This very idea makes me very interested in developing such a concept in the current education system. I have already written quite a few blogs on innovative teaching methods for math and English. Let me give you the links for the same. Copy and paste these links to a separate browser to have a quick overlook on what I presume about the way education should be for children:
So once you have been through these blogs you will appreciate my idea of creating a knowledge based education system which should let children decide their own evaluation. The idea would be to give creative end of the chapter activities for children especially for online tutors. Now the only reason for giving preference to
online tutors
is that they normally do not get the chance to have much interaction with children and need to provide something creative in order for the parents and children to enroll for their course. There is lot of competition in this field and there is no respite. Hence; I am highlighting these points from the perspective of online tutors.
Now, we don't want our future generation to be people who get straight A's in their schools and colleges but are duds as far as practical exposure is concerned. The idea is to integrate practical components early on in the studies in such a way that theory and practical approaches both get equal importance. The primary objective should be to provide knowledge to the children in the best possible creative manner. Now by being creative I mean being different. Use
different teaching techniques
for different children as no two children have the same grasping power. This has already been discussed in my previous blogs. But it is very important to enumerate this point for this subject. If you look at the end of the chapter activities blog you will find that I have never focused on the grading system because only grades do not reflect the intellectuality of the child. A child can have an exam-fever because of which he/she may not be able to provide adequate answers; but if you ask them to provide the answers without mentioning the word test or exam they do excellent in it. Hence; knowledge is bliss; and it should not be confused with evaluating methods. These methods were created to instill competition amongst children. But do we still need the same ideology after hundreds of years.
Traditional teachers would now argue that without evaluation methods it will become very difficult to gauge the progress of the child. But who says that we do not need evaluation methods? The only thing is that the word exam/test should change to activities. Now we should have different creative activities which encourage the child to showcase their hidden talents. Knowledge can only be delivered if the child is ready to accept it.
You might have heard the phrase:
"
You can take the horse to the pond but cannot make him drink it.

"




In the same ways if you do not understand what a child wants you cannot provide knowledge to him/her. It is a difficult proposition even for God to make them understand anything if they are not in the mood to study. Hence, there is a need to change the

evaluation techniques

and make it easier and comfortable for children. It should be more like an activity than an evaluation exercise. Hence, I said in the beginning that

grading system

has actually impacted the children in a very negative way. Now they are carrying loads of books in schools, are involved in lots of activities and are way too tired to solve your quizzes and boring tests. Hence; I call all the tutors and teachers to contribute further; and share your knowledge about

innovative teaching techniques

by contributing something innovative and different from what has been taught since traditions. We are looking at the

21st Century education

hence we should be different. Our thoughts should be innovative and path-breaking so that we can pave way for a bright future for the approaching generations.




I know you would say that we are back to square one from where we started in this blog. But do you really think that changes can be made in the current education paradigm in a single day or a single thought? It is a gradual process.




I would like to end this blog by mentioning a quote written by

Eleanor Roosevelt

,



"The future belongs to those who believe in the beauty of their dreams."
Hence; I want as many teachers and tutors to participate in discussions related to this topic and comment on this blog as much as possible. Remember we are doing this for the future generations to follow. Post your invaluable comments and suggestions about the blog by following us at:
http://www.facebook.com/PracTutor
,
http://hardik.practutor.com
PracTutor

12806 Townepark Way
Louisville, KY 40243-2311
Sunday, 19 August 2012


Dr. Abraham Fischler interviewed by Cindy Burfield, speaks about transforming education. Dr. Fischler is the founder and President Emeritus of NSU Nova Southeastern University. Dr. Abraham Fischler interviewed by Cindy Burfield Dr. Abraham Fischler, Cindy Burfield, Fischler, NSU, Nova, Southeastern University

Friday, 3 August 2012
Tutoring – to be or not to be
It is always fun to have a healthy discussion on a hot topic because it brings about the best information on the subject matter. So, I read lots of articles on the subject "What is the relevance of tutoring in the
21st Century Education
? Does it really serve the purpose of providing quality assistance to students?" The research showed that day-by-day the number of class sizes in schools are increasing which makes it tougher for the students to get personalized attendance from the teachers. Although technology has made things easier for us, students have become the ultimate sufferers because of the trend. I have seen students hooked on to computers for a long period of time to do their homework, to access chat rooms, instant messengers, games and more. With that the admissions in schools and colleges have become competitive. Students now have to get specialized knowledge in addition to regular studies to stay competitive and keep maintaining their grades. Moreover, parents have also become busier. We are already seeing both parents of children working to maintain the house. This adds up to the pressure and shows how the current generations of students are facing problems to cope up with the students.
Even if a student is struggling to get the right grades in schools and colleges, it is not their fault.
Tutoring
is not meant to replace classrooms but it is an augmented facility which helps the students to get proper guidance which is now missing in classroom education. A classroom is the basic foundation on which the house i.e., student's career stands. But if you do not have a good structure i.e., proper guidance, come winter it would show up cracks. Hence; it is very important to have a good structure so that all the cracks in the foundation are filled. I found some interesting facts which provide enough evidence to showcase the real need for tutoring in the 21st century education:
Provides personalized, one-on-one attention
Gives a chance to students to clarify doubts and ask relevant questions
Builds confidence and develops study skills in students
Provides growth opportunities to students
I also researched a lot to understand the key characteristics that define a good tutor. Let us look at these characteristics:
Enjoys working with children and build good rapport with the child
Should be kind, understanding, patient and fair
Should be able to teach alternative methods for better learning of the children
Should be able to initiate customized plan for each child so that there is personal growth in each child
Should have a workman kind of spirit i.e., They should be punctual, dependable and steady
The next step was to understand the role of tutors in the lives of students. An interesting quote from Helen Keller came across while I was researching on the topic. It read "
The only thing worse than being blind is having sight but no vision."
This quote is absolutely true. Without proper guidance and instruction, children will lose focus and concentration. The most astonishing detail that I found while researching on the importance of tutors in the lives of students was that even in the most comprehensive schools in USA (even government schools) the
teaching
quality was poor. The teachers would spend the entire first term on complex numbers, the next two terms on the next four topics leaving the last three topics to be rushed in the last few weeks of the exams. One of the prime reasons for this is low expectation from teachers for the students. The most depressing thing is that teachers were going through the motion and completing the course for the sake of it without imparting proper guidance to the students.
You can get relevant details on the topic by copying and pasting this URL on a separate browser:
http://www.duxcollege.com.au/importance-of-tutoring-i-64.html
Let us shift our focus to tutors and understand how they can play a significant role in the lives of students:
Understanding the expectations of the student from the course deliverable
Determining the type of content relevant for good preparation for exams and using it in the best possible manner for the student
Providing proper feedback to the students after assessing their results
The need for closely following the curriculum followed at schools including examination patterns
Providing alternate methods to students in case they do not understand the orthodox method of teaching
Discussing the progress of the student with the teachers and parents
So, we can say that a tutor is someone who has a central part in the education of the students. They are the ones who stand as a pillar between teachers and parents and intervene with either of them to get the best results for the students. But tutors also have their own share of problems. They need to deal with a predicament of providing assistance to students or doing the work for them. Normally we find that tutors have also been teachers hence; it becomes very difficult for them to change their attitude. When you are working as a tutor you have to develop the perception that students are not reading on their own. They find it difficult to grasp the subjects in classroom atmosphere. The accountability factor also is higher in comparison to teachers. While teachers do not directly share the burden of each and every student, tutors have to not only help the students in their day-to-day assignments but also solve the concerns of the students personally through a step-by-step process. This way student can get the desired attendance from the tutors and are able to excel in their studies.
I suppose now you have a clear idea of the importance of tutors in the lives of students in 21st century education. You can also go through the following URLs to get more information on this subject:
http://www.anokaramsey.edu/en/resources/Success/TutoringSrvcs/becometutor/TutorTraining/M1-Role.aspx
http://www.ncbi.nlm.nih.gov/pmc/articles/PMC3292071/
https://expattutor.wordpress.com/2012/03/03/each-tutors-most-crucial-dilemma/
The next topic of discussion was the role of parents in enhancing the education of the students. Parents are role-models for the students. Students adopt the characteristics of parents sub-consciously. Hence; it is the moral responsibility of the parents to take care of the tutoring business of their children. In an interesting article on "Better tutors vs. better parents: recent PISA study", OECD conducted several exams as a part of their Program for International Student Assessment (PISA) testing the knowledge of 15 years old students on the basis of science and math problem-solving techniques. The results found that parents who are more focused on their child's education play a key role in the student's achievement. There were two findings of the studies which included:
15-year-old students whose parents often read books with them during their first year of primary school show markedly higher scores in PISA tests than students whose parents read with them infrequently or none at all.
The performance advantage among students whose parents read to them in their early school years is evident regardless of the family's socio-economic background; and parents' engagement with their 15-year-old kids is strongly associated with better performance in PISA tests.
This goes to show that good parental actions towards child's learning at home can boost their confidence. It also helps them in taking tutoring lessons seriously. To learn more about the role of parents in their child's academic achievements copy and paste the URL on a separate browser:
http://www.zimbio.com/NY+Caregivers+Net/articles/zPR-Pkn_rZW/Better+tutors+vs+better+parents+recent+PISA
http://www.independent.co.uk/student/magazines/home-help-parents-play-a-vital-role-in-learning-395323.html
http://grupsderecerca.uab.cat/grai/en/content/parents-tutoring
So, in short we can say that both parents and tutors have an equal importance in helping the students excel in their studies with flying colors.
In the next blog, I will discuss about private tutoring and how it is affecting the performance of students.
To learn more about PracTutor follow us at:
http://www.facebook.com/PracTutor
,
http://hardik.practutor.com
PracTutor
12806 Townepark Way
Louisville, KY 40243-2311
United States
http://www.practutor.com